The Library is open on Tuesdays, Wednesdays and Thursdays, from 10-5pm.
Fellows do not have to make an appointment or request material on open shelves in advance. Fellows have access to the Main Library, the upper galleries and the Inner Library office, and the basement stores.
For printed material marked as 'closed access' in the catalogue, prints & drawings, manuscripts and archives, we kindly request some advanced notice as it may not always be possible to retrieve some items on the day. Please email us at [email protected] if the item you wish to see is in closed access, or for any general Library enquiries.
Enquiries specifically relating to the manuscripts and internal archival collections of the Society can be directed to [email protected].
Please see the Images and Photocopying page of the website for information about requesting these services. There is self-service copying available in the Library.
E-resources
All Fellows can access the Society's subscription electronic resources from home through the Library catalogue. These include around 80 individual journal titles, databases (such as ODNB, Who's Who, Grove Art Online), and 5 Arts & Sciences journal collections on JSTOR (collectively totalling over 750 journal titles).
You will first need to have activated your Fellows' Platform account. If you have any problems accessing your account, please email [email protected]
Our Library catalogue guide [PDF] outlines the main features of the catalogue.
We also have a specific guide to using JSTOR [PDF].
To search for e-resources:
Access the Library catalogue here: https://library.sal.org.uk/
Log into your Library account using your Fellows' Platform (Connect) username and password
Click the arrow next to 'Library catalogue' in the box next to the search bar. A  drop-down menu with more search options will appear
Select All resources
Run your search! This could be an article title or the name of a journal.
Any online article results will appear with either an Access URL (direct link to the article) and/or links to the Full Text Finder. Some e-journals will only show the Full Text Finder option.
A search result may look like this…
Clicking the URL will take you to JSTOR directly to view the article.
Sometimes the same article will be available from more than one platform
(e.g. via JSTOR and through the publisher's website)
Clicking on Full Text Finder will show these options, if available, and you can choose which site to view the full article.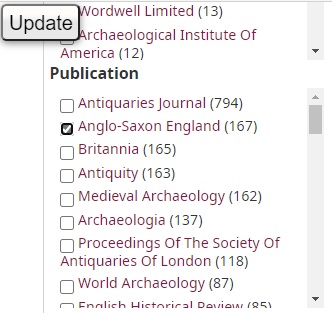 Refine your search using the options on the left-hand menu.
Here you can tick (or un-tick) to only display results from these filters, such as articles from a specific publication title, or only results in one language, or only content from a particular platform.
An Update button appears when you tick a filter. Remember to click this to refresh your search with your chosen filters!
If you need further help with using the catalogue or the e-resources, please contact the Library at [email protected]